Product
PM Parts(sintered)
MIM Parts(injection)


Home
>
About Us
>
About Us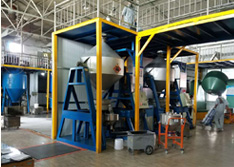 Originated from a chemical company since 2005, Hebei Zerich Industrial Co., Ltd has been a group company including two factories, one engaged in stainless steel powders and the other one in powder metallurgy parts.
  our factories cover an area of 20,000 square meters and we are the only one who makes powder metallurgy parts from its own powders in China. We produce customized stainless steel PM sintered parts and MIM injection parts with high precision and good mechanical performance. These parts are widely used in the areas of locks, auto, mincing machinery, power tools, medical instruments, textiles machinery, communication equipment, etc.
  With 20 years experience in stainless steel powder metallurgy, our innovative professional team make our parts meet the specific demand for our clients always at a stable and satisfactory level. More and more customized parts orders come from countries in Asia, Europe and North America.
  Our company is located in Shijiazhuang, 300km to Beijing and 350km to Tianjin Xingang seaport, we sincerely look forward to co-operation with you.
Exhibitions
ChemSpec Europe 2006 in Geneva, Booth No.CP121

ChemSpec Europe 2007 in Amsterdam, Booth No.CP182

ChemSpec 2008 in Munich, Booth No.CP293

ChemSpec 2009 in Barcelona, Booth No.PS34A

QUIMICA & PETROQUIMICA 2010 in Sao Paulo, Brazil, booth No. D61

PM 2016 in Shanghai, China. Booth No. B193.