Product
PM Parts(sintered)
MIM Parts(injection)

Contact Us
Address: 351 Youyi North Street,Shijiazhuang, 050071,China
Tel: 0086-311-85368955
Fax: 0086-311-85368977
E-mail: sales@zerichem.com
Stainless Steel Powder for MIM
The product is produced by a conbination of water and gas atomization under an ultrahigh pressure , Presise engineering makes particle size of the powder more fine, closer to sphere. Product of each batch must be mixed and has a final test. Such meticulous works ensure the stability of powder.
Product Characteristics
1.High Sintering Density.
2.Good Mechanical Properties.
3.Smooth Surface, Nearly Spherical Appearance.
4.To improve the production difficulty of ultra-tin and ultra small parts.
5.Free combination of particle size.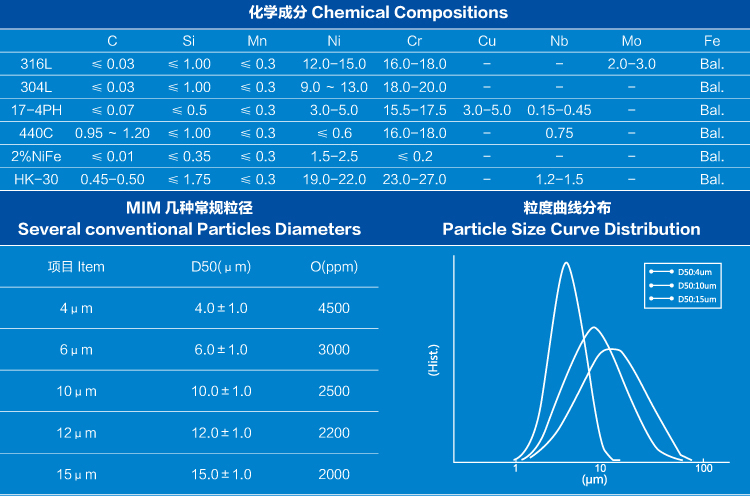 Appearance Photographs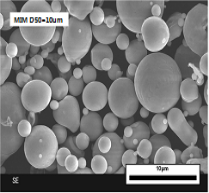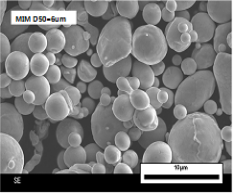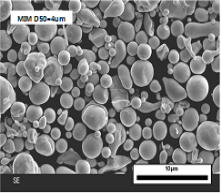 Product Specification
State:Solid powder Application area :MIM
| Product Name | 316L Stainless Steel Powder | Product Model | 10μm |
| --- | --- | --- | --- |
1. Chemical Composition (WT%):
| | |
| --- | --- |
| Standard | IEC62321 Edition 1.0:2008, GB/T223.86-2009 |
| Test Item | Test Result |
| C | ≤0.03 |
| O | ≤2000ppm |
| S | ≤0.02 |
| P | ≤0.02 |
| Si | ≤1 |
| Cr | 16/18 |
| Ni | 12/14 |
| Mn | ≤0.3 |
| Mo | 3-5 |
| Fe | BAL |
2. Physicals:
Standard

ISO3923-1:1979 , ISO 3953:1993 ,ISO 9276-4:2001

Test Item

Test Result

Apparent Density
(g/cm3)

--

Tap Density
(g/cm3)

4.2-4.5

Flow Rate
(s/50g)

--

Particle Size Distribution

Sieving

(μm)

D10

2-3

D50

8-10

D90

18-20